Page 25
Castro Valley is quite different now. Instead of cattle, chickens and orchards surrounding us, we have homes for a population of over 60,000 and are the second largest unincorporated area in California.
| | |
| --- | --- |
| One of Castro Valley oldest buildings, circa 1930s ... | ... and for a while purple ... |
.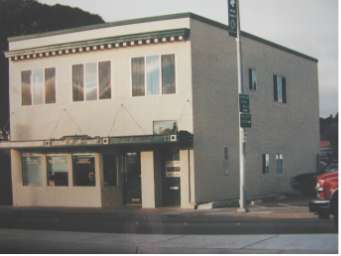 .. and how it looks in 2001.

***

The end ... for now.

MyCastroValley.com encourages anyone with old photos, old stories and such to contribute to this history "scrapbook."
Contact the publisher at: mycastrovalley@attbi.com
---
We gratefully acknowledge the following for source materials:
The rancho of Don Guillermo : history of San Lorenzo, Hayward, and Castro Valley ; Alameda County, California / John S. Sandoval, Hayward, Calif. : Mt. Eden Historical Publishers, c1992
The Ohlone way : Indian life in the San Francisco-Monterey Bay Area / by Malcolm Margolin; illustrated by Michael Harney: Berkeley, Ca. : Heyday Books, c1978
Archives: The Daily Review - ANG Newspapers
Archives: The Castro Valley Forum
The Hayward Area Historical Society
And a special thank you to Reine Silverlight who got this History section off the ground.
---
- Skip to a specific page here -
| Page 1 | 2 | 3 | 4 | 5 | 6 | 7 | 8 | 9 | 10 | 11 | 12 | 13 | 14 | 15 | 16 | 17 | 18 | 19 | 20 | 21 | 22 | 23 | 24 | 25 |
To go back to the front page of the CV history section
Click here
To go back to www.MyCastroValley.com
Click Here