Welcome to Castro Valley, CA, USA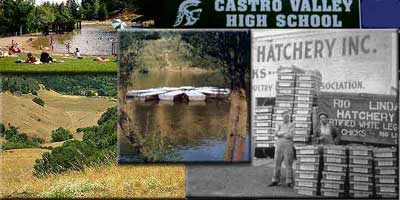 To enter your Hometown Website, please pick an option below
---
© 1998-2003 MyCastroValley
A community service by:


Shop local, shop Castro Valley!
For your next website needs, use KO-Websites, a Castro Valley company since 1998.
© 1995-2003 KO-Websites, LLC
Now, with our own P-IV server!
---
Thank you for stopping by MyCastroValley.com. Castro Valley is a friendly, peaceful unincorporated town, populated by about 60 thousand people. Castro Valley is located in the Bay Area of northern California. Nestled in a quiet valley surrounded by tree covered rolling hills, Castro Valley residents, businesses, and visitors enjoy a rural atmosphere at the hub of California's cultural, economical and recreational heartland. Castro Valley boasts such natural amenities as an extensively developed park system, swimming lagoon, 315 acre lake, and a beautiful 18 hole golf course. Schools are top notch and the community is tight nit. For specific demographics, go to the Real Estate section of this site.
To learn about the town history, go to the: CV History section