Page 18

.

.

Fire Protection - The Early Days

.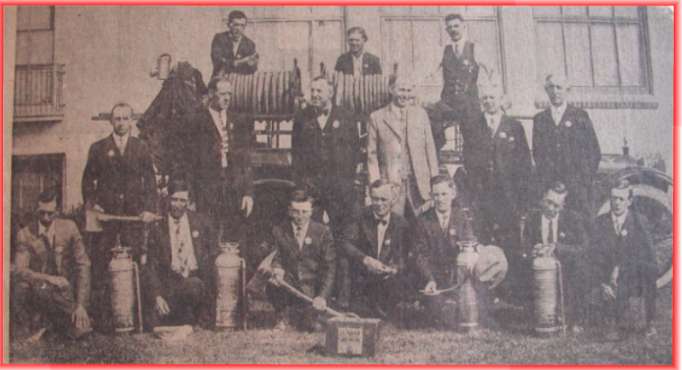 Jerry Unser moved to Castro Valley in 1924. He is shown here in the light jacket. Behind him is the 1917 Winston Touring Car that he salvaged from a ditch and converted to Castro Valley's first fire truck. Mr. Unser resigned in 1928 and moved to New Mexico, where he opened five garages. He and his wife raised four sons. All the Unser boys (Jerry Jr., Louie, Al, and Bobby) went on to become race car drivers and some won the Indianapolis 500 winners.
The hard working volunteer fire firefighters in the photo are:
(from the left: back row) Charlie Mellerio, Vernon Lehman, Pete Selmeszki.
(middle row) Tony Rizzo, Asst. Chief William Lehman, Chief Al Moir, Commissioner A.B. Morris, Commissioner George Vinton, Commissioner Jack Stanton. (first row) William Griffith, Jack Gonsalves, Joe Francis, Gilster Christensen, William Keys, Fire Commissioner Oscar Sturzinger and Oswal King.
---
.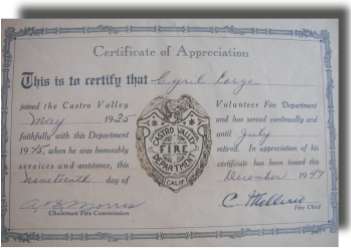 This certificate of Appreciation went to Cyril Lorge for his service from May 1935 through July 1945 when he retired from the volunteer force. It is signed by A.B. Morris, Commissioner and C. Mellerio, Chief.
---
.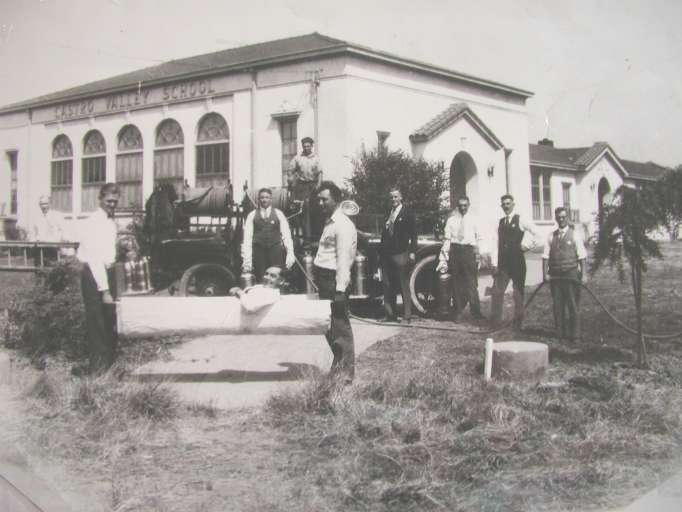 The volunteer fire department consisted of local businessmen and officials. In this 1929 photo we see: (Left to right: front) Will Wolters, A. Christensen (relaxing in the stretcher), G. Gonzalves. (rear) Jack Gonzalves, A.B. Morris, Orin Crowe, Jess Morier (on the truck) Jerry Unser, Al Nunes, Pete Selmeczki, J. Stanton and Mr. Appleby and Mr.O'Kine.
---

- Skip to a specific page here -
| Page 1 | 2 | 3 | 4 | 5 | 6 | 7 | 8 | 9 | 10 | 11 | 12 | 13 | 14 | 15 | 16 | 17 | 18 | 19 | 20 | 21 | 22 | 23 | 24 | 25 |
To go back to the front page of the CV history section
Click here

To go back to www.MyCastroValley.com
Click Here