Page 19
Castro Valley - When Chicken Was King
One of the most notable periods in Castro Valley's history began in the 1900s, with the ranching of chickens. At this time there were only 373 families living in 57 homes. Many of the residents were of Portugese or German heritage.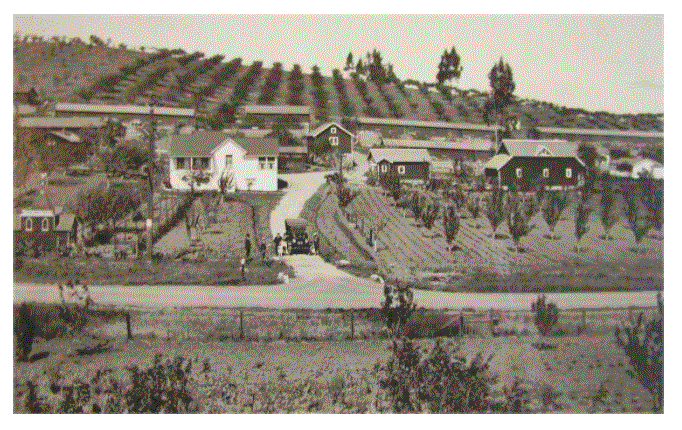 The Lundgren family home and ranch on Stanton Avenue was typical of ranches in the 1920s.
Note the long brooder houses for chickens in the back and the orchards.
---
Alcorn Chicken Ranch
The farmhouse was reportedly built in the 1890s. The Alcorn's tended to 3,000 chickens and a cow on this ranch. In the early 1900's, George Alcorn would start the day very early in the morning, gathering eggs and sorting them in this building. He then would take the family's Model T truck and deliver the eggs to restaurants and hotels in Oakland and Berkeley before teaching his first class at 8 a.m. at U.C. Berkeley. He later was appointed Director of the Agricultural Extension at the University. He made many contributions to national agricultural policy in this position.
Valley farms in the distance were a field of white dots (hens)




The brooder houses, where baby chicks were born, were heated with oil fuel and often caught fire.

The White Leghorn Chicken was "King of the Valley."





---

- Skip to a specific page here -
| Page 1 | 2 | 3 | 4 | 5 | 6 | 7 | 8 | 9 | 10 | 11 | 12 | 13 | 14 | 15 | 16 | 17 | 18 | 19 | 20 | 21 | 22 | 23 | 24 | 25 |
To go back to the front page of the CV history section
Click here

To go back to www.MyCastroValley.com
Click Here