- Don Guillermo Castro -
The San Lorenzo Land Grant
Don Guillermo was born in California, then a Mexican possession in 1810. The son of Don Carlos Castro of Las Lagas Rancho. His birthplace was located near the village of Coyote in Santa Clara County along what is now highway 101.
A career soldier, he served in the Mexican army as a lieutenant of militia at the pueblo of San Jose. In 1838, he was listed as a surveyor of government lands in San Jose, and it is about this time he acquired his land grant, roughly 28,000 acres, then known as Rancho San Lorenzo. This land included those areas we now identify has Hayward, San Lorenzo, Castro Valley, as well as Cull, Crow and Palomares canyons. The sprawling grant encompassed about 41 square miles.
Castro had by then married Luisa Peralta of the San Antonio Rancho, then located in East Oakland. By the time he was 28 years old, Castro was the father of seven children.
Acquiring clear ownership of the land, often given as a reward for good service, was relatively simple. A request was made in writing to the governor describing the land as clearly as possible and submitting a map of the area.
The grantee was required to build a home, and engage in either cattle or agricultural development. As a wedding gift, Guillermo and Luisa received 300 prime steers. He soon added 4,000 sheep and 500 horses which grazed on the rich grasses in our valley.
Don Guillermo built an Adobe home where Hayward's Old City Hall now sits on Mission Blvd. The foundations of this home were unearthed during excavations for the building of city hall.
A Personal Failing
In spite of his magnificent holdings and connections, Don Guillermo fell prey to a weakness for gambling. Selling off portions of his lands to pay gambling debts and mortgaging his property finally cost him his Rancho. Eventually, his debts culminated in a sheriff's sale in 1864.
A wealthy New Englander, Faxon Dean Atherton, bought the remaining acres for $400,000. He and his family's name lives on in the San Mateo community of Atherton.
Don Castro took the younger members of his family and moved to Chile in where he spent the remainder of his life.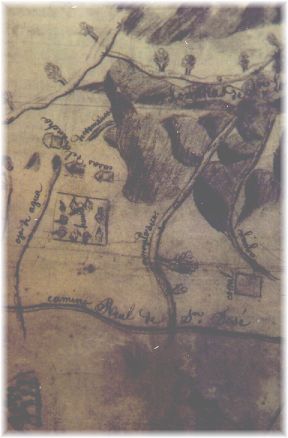 A hand drawn map outlining
the area of Castro's grant