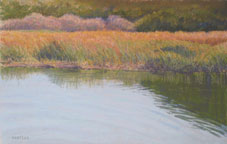 Reflections on the Lake

MyCastroValley Featured Artist
Mark G. Mertens

I was born in 1947 and grew up in western Montana. My interest in art started at an early age, drawing images of the rugged landscape near my home. I moved to the bay area in 1971, enrolling in extension classes at California College of Arts and Crafts. I studied still life and figurative drawing and painting with David Hardy, Doug Restivo, Anthony Holdsworth, Sally Park and Robert Semans. In the last five years I have focused on pastel, studying portraiture with Fran Erwin and Daniel Greene, and landscapes with Duane Wakeham and Clark Mitchell.
My work is rooted in realist traditions: careful draftsmanship and observation are practiced. I seek to capture the effects of light on color. I aim for variety in realism, which combines soft, diffused, even abstract images, with sharper, focused images, so that the viewer participates in the art.
I work on white Wallis pastel paper, toned MiTientes paper, or white watercolor paper prepared with grit. White paper is first covered with a thin oil wash. I begin with a loose sketch, usually done with warm colors of hard pastels. When Wallis or watercolor paper is used, the sketch is then washed down with paint thinner. After this dries, I apply layers of progressively softer pastel. Some colors are blended, but the final colors consist of rich, soft pastels that are directly applied.
Over the past six years, I have shown in group exhibitions and juried competitions, receiving several awards for pastel landscapes. My pastels are in collections in the bay area. I am an associate member of the Pastel Society of the West Coast, and member of Group 95, California Art Club, Hayward Arts Council and ART Inc. I reside in Castro Valley with my wife.
You may contact Mark at his Studio.
Please call 510-538-9883