T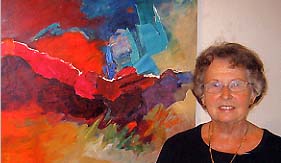 here was a time when I created works that would look great over someone's sofa--florals, seascapes, etc.
Now I want to make something that is unexpected and exciting--BLAM!--a surprise, even for me. The piece may begin this way and end up that way, in a totally different direction, perhaps upside down or sideways.
I begin with enthusiastic thrusts of acrylic paint. Then I may paste on a stray piece of collage paper that is lurking at the bottom of the heap. With that, more papers, fabric, string, the kitchen sink--who knows?
If painting isn't fun, why do it?