The Lorge Family
Ray and Lucille Lorge's families both had roots deep in Castro Valley's past; and both families made many contributions to the growth of Castro Valley.
Lucille's great-grandfather, Henry Thomford, open the first business in the area in the mid-19th century known as the Exchange. Situated on the old Dublin Road, where Grove Way and Redwood Road now meet, ranchers would herd their cattle past the Exchange, driving their stock towards San Francisco. It was a good place to water the horses and stop for a beer.
Ray's father, Cyril Lorge, was part owner of the Rio-Linda Hatchery in the 1920s when chicken ranching became an integral part of the Castro Valley economy. In 1934, they changed the name to the California State Hatchery. Cyril was an active member of the all volunteer fire department for Castro Valley.
Ray and Lucille both worked in the family hatchery and went on to open R. & J. Quik Clean . He was a past president of Castro Valley Rotary, who holds an annual golf-fundraiser in his name, and served on the Municipal Advisory Committee to Alameda County.
Both Ray and Lucille were active in the Hayward Historical Society. Lucille continues as a volunteer and docent there.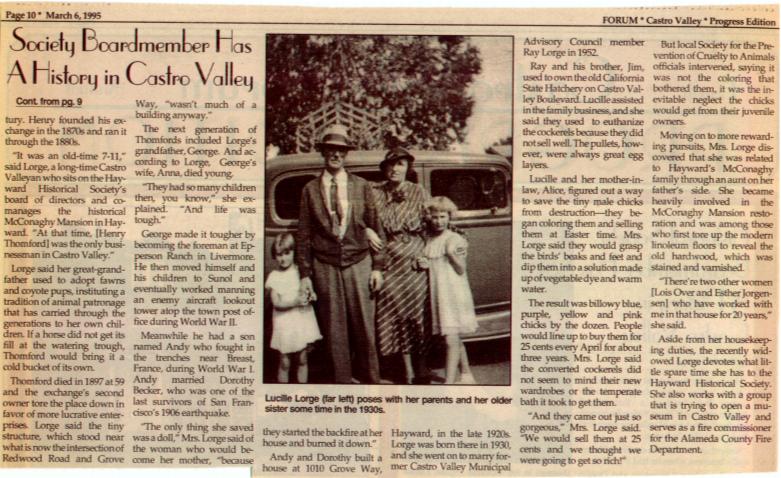 Back to the
MyCV history front page
Back to
www.MyCastroValley.com