| | | |
| --- | --- | --- |
| Click Below | | Click Below |
Brought to by
www.MyCastroValley.com
~via~
The MyCV Coffee House
Mr. Brooks also maintains his own websites:
Home/Local Page: www.eb-web.com
Free music mp3's:Critic's Carnival mp3.com
Live webcast:Critic's Carnival on thedividingline.com


---
The State of Internet Radio & Digital Music Part 2 of 4
This is part 2 of 4 installments in my editorial on this subject. If you haven't read part 1 yet then scroll down a bit, then come back here for Part 2:
During the time since my first installment of this article the Copyright Arbitration Royalty Panel (CARP) made a recommendation to the Librarian of Congress to review their findings & have the US Copyright Office set a fair & reasonable rate for webcasters to pay royalties for playing licensed artists & bands. This is all well & good, but the royalties will also be due retroactive to 1998. This means that the smaller internet radio stations will still get socked with a sizable enough bill to certainly put them out of business. Not to mention the elaborate logging system that the labels & the RIAA are also requiring for all webcasting. Commercial radio stations have to pay one or more full time employee's to log the day's playlist for royalty payments; so how are the independent internet radio stations supposed to cope with this additional expense? Unfortunately, the smaller independent webcasters were shut out of the CARP proceedings. The decision from the Copyright Office is due this June 20th, so I imagine we'll know soon.
You would be suprised how aggressive RIAA was at the dawn of internet radio. I even have some personal experience with them... I was recording the original version of my own show "Critic's Carnival" & by early in 1998 after recording & uploading 5 short shows to the 'net I got an e-mail from the RIAA. As an amateur hobbyist-webcaster I could join for a minimum of $500 a year plus a percentage of any income generated by the shows. I wrote back to them explaining that all the artists & bands I played were either independent or unsigned & that there was no reason to join them for $500 a year. They were fine with that, but they said I must have a signed "Public Use" letter from each band I played! I have since found that this would be impossible for most webcasters & equally impossible for the artists themselves. Does an unsigned band have time to authorize dozens of "Public Use" requests every day or week? I think not. Since I, like so many other webcasters out there, do this kind of stuff for a love of sharing the music more than anything, it would seem ridiculous to put the majority of us out of business so the fat-cat middlemen of the music industry can get even richer.
An interesting study by Jupiter Research that was released in May showed some positive results concerning the effect of internet song-sharing on CD sales: "...about 34 percent of veteran file swappers say they are spending more on music than they did before they started downloading files." This supports the point I've maintained for some years now: if you hear something new that you like, then you are probably going to buy something from the new band you heard & liked. There are no hard facts about the effect of internet radio, but I tend to think that the medium has an even greater influence on increasing album sales overall. I myself just bought 4 CD's last month only because I heard a few songs from each band on someone else's webcast show!
For now, if you want to hear, instead of read, more about the subject of internet radio then make sure to tune into my own new live show "Critic's Carnival" on thedividingline.com beginning at 9pm until midnight Pacific Time every Friday night...I'll play some great indie & unsigned prog rock, but also expound on the battle over internet radio as a medium. In Part 3 of "The State of Internet Radio & Digital Music" I'll move on from the wecasting issues & get into the piracy issue, the over-hype of mp3's & the benefits of the technology as well. Not to mention the huge variety of storage types, hardware & software for digital music.
Links:
Critic's Carnival on thedividingline.com
---
The State of Internet Radio & Digital Music Part 1 of 4
As I write this first article on "The State of Internet Radio & Digital Music," the webcasting community is still in a protracted Congressional battle over the cost of doing business... Just recently, on May 1st, there was a day of protest throughout the more independent end of the internet music community.
May 1st was a music webcast blackout day (or "day of silence" as a protest to a Congressional vote due by May 21st which will decide how much the smaller internet music sites & webcast stations will pay in royalties to the lawyer-heavy, unnecessarily bloated music licensing companies & even less, eventually, to the artists themselves.
In the coming chapters of this article I'll have a bit of personal experience & inside information to interject & it will probably blow the average digital music fan's mind (yes--perhaps even your's!) But for this introduction, let me point you to the Save Internet Radio website (see link below), which was the rallying point of the protest that occurred just yesterday...Even visit the site before finishing this article, as it's not to late to send e-mail to Congress or participate in a number of ways...
So, back to the main point: As with all other segments of big media business, the mainstream music industry has become so bloated with lawyers & unnecessary middle-men executives (aka the "Suits") that the cost of doing business had not been reduced by the advent of easy-access multimedia on the internet. But rather the cost is poised to increase so dramatically for the little guy that soon there will only be two categories of internet music: "Pay for Play" or "out of business."
There are so many facets to this problem that legal experts & researchers far more educated than myself have tried to solve the question of digital music. So far I can't see a definitive resolution to what constitutes "piracy" in a free & democratic society. In the late 70's the music industry complained bitterly about cassette tapes & the trading of them, but who was one of the biggest manufacturers of blank cassettes?...if you said Sony, well you where right! Again we are seeing a repeat of the cassette debate, but on a far larger scale: we have a choice of digital recording formats (mp3, wmp, ra, wav, etc.) & also a large choice of storage formats as well.
So between the licensing suits, major label middlemen & the huge companies that they represent, is there really anywhere for the starving artist to exist today? For now, at this moment in 2002, the internet is still nothing but a positive, if not an invaluable tool for the wholly independent or unsigned artist or band. For the major artists the 'net is a finely-walked edge, between promotion in the digital age & the cost of doing business there.
Join me next time for part 2 of 4 "The State of Internet Radio & Digital Music," but for now I'll invite you to the debut of my new weekly live internet radio show, "Live Critic's Carnival" at 9pm to Midnight every Friday. If all goes as planned my first show will be this Friday, May 17 on The Dividing Line's website (also see below.) The show will be a live extension of my focus on independent & unsigned progressive rock artists & bands. If you are from Castro Valley, or the SF Bay Area, then expect to hear a few local bands each & every Friday night!
Links:
Save Internet Radio: www.saveinternetradio.org
The Dividing Line: www.thedividingline.com
---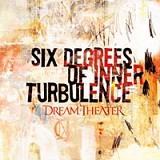 Dream Theater - Six Degrees of Inner Turbulence/World Turbulence Tour 2002
Ok, even more Dream Theater from this column you're asking yourself? Buck up me hearties, In my second "DT" installment I'm covering the new CDs as well as the World Tour in one article. After this edition you won't hear from me again gushing about this stellar band for probably a year or so...
For those of you who have not read my review of the "Metropolis 2000: Scenes from New York" DVD, it's probably best if you go back & read it before continuing, as the DVD review serves as a good introduction to the band. I cannot impress upon the reader (yes you) that these musicians are the most respected among their peers in rock music today. If you are a musician you have probably seen a member of this band as a cover story in your respective trade magazine recently, or surely in the next month or so with this release & tour!
"Six Degrees of Inner Turbulence," Dream Theater's sixth album, was released on January 29th, 2002 to mostly rave reviews. Despite "Six Degrees" being a nearly 100-minute, 2CD "album" this release managed to enter The Billboard Top 200 Charts at #46! But the most impressive statistic was the fact that Six Degrees placed #1 in all CD sales on The Billboard Charts Top Internet Albums for that same first week of release! As a long-time fan, the simple fact that this album is so popular is a bit of a puzzler: The format (a 95-minute, 2CD set) would naturally deter high sales, but recent exposure in the US has helped boost sales just enough to make such a remarkable project relevant, at least according to the charts & those "Suits" in the music industry who lend credence to such figures. Outside the US the album was often #1 or a least in the top 10 rock albums during at least the first week of release; even today the majority of hardcore DT fans live in Europe & Asia.
This "album" is actually a 2CD set, the first 55 minute CD being 5 songs, all of which are great, but my favorites are the opener "The Glass Prison," then the 3rd track "Misunderstood," & I'd like to take 2 minutes to tell you about the 4th song, "The Great Debate." This is the stand out track for this album & also a comment on the public controversy & political innocence of pre-9/11 2001. The song was originally written word for word as it was recorded about the 2001 controversy over stem cell research. But some of the lyrics, especially the chorus, were so prophetic of the 9/11 attack that the coincidence is chilling:
"Human kind has reached a turning point,
Poised for conflict at ground zero,
Ready for a war..."
The second disc is a single 42+ minute song that is the title track for the album; "Six Degrees of Inner Turbulence." This one song is actually a concept album unto itself; telling the stories of six different psychologically troubled individuals. During the SF concert we were lucky enough to be treated to the entire song as the second set of the show. At the time the band had only played the entire "Six Degrees" for the first time in the US the night before in Los Angeles.
The San Francisco live show (March 9th) at The Warfield was just the first leg of the US tour, but the band pulled out nearly all the suprises for this one-night stop. Material from as far back as the first album, some amazing instrumentals, solos and of course the "Six Degrees" set. The final encore was the end of the last album "Scenes from a Memory" & also yet another suprise: Dream Theater's 1991 song "Pull Me Under" into a cover of a song from one of our own local bands..."Master of Puppets" by Metallica. My only complaint about the live show was the very poor sound from the PA. I really felt sorry for all the parents & even a few grandparents I saw who brought their kids to the show...Ah, if only the live performance on the first leg of the tour had near the clairty of the studio release!
Even though the whole hall roared approval & sang along with the Metallica song, there is still a huge debate on the two main Dream Theater-related message boards about the set list & the band's choice to play Metallica's "Master of Puppets" in it's entirety at times during the tour. At the SF gig we only heard most of the title track during the encore, but then we also only had one show in SF. If I may explain: the band have been mixing up the set-list when they play a second night in the same city, so they sometimes cover the whole "Master of Puppets" album on the second night, much to a minority of the fan's dismay. I'm not a big Metallica fan myself, but I'm suprised they didn't play more of the album in SF, as it is the closest venue to Metallica's hometowns of Castro Valley & San Leandro!
If you (or more likely, your kids) like the current trend of bands like Tool, System of a Down, Creed, etc., then you'll find DT more than a pleasant suprise...They indeed do incorporate jazz, classical & just about everything but the kitchen sink within a hard rock/metal style. Again to parents: this is probably the best band you must expose your young musicians to... I often find that the biggest problem with the best music out there is that most people never get to hear it!
Links:
Dream Theater Official Website: DreamTheater.net
Mike Portnoy Official Website: MikePortnoy.com
---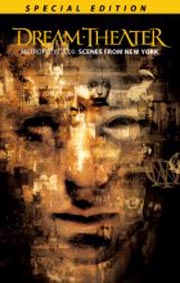 Dream Theater - Metropolis 2000: Scenes From New York - Live DVD Concert
Well, the boys from Berklee have done it again! Probably one of America's best kept musical secrets, Dream Theater's critically acclaimed CD is now a fantastic live DVD concert recorded at New York City's Roseland Ballroom with around 145 minutes of live material!
But first a brief bit of background on DT: this phenomenal act first came together in 1985 at Boston's prestigious Berklee School of Music under the short-lived name of Majesty. Before long the band changed their name to Dream Theater & it didn't take much longer to record & release their first album "When Dream & Day Unite" back in 1988. The band didn't quite break into the tributaries that flow to the "mainstream" for a couple of years later. One of the stepping stones was when they were asked to open for the UK band Marillion in 1990. Their support for the US Marillion tour certainly helped get the word around for their 2nd album "Images & Words," which was released in 1991. From there the band's success in the progressive & metal circles has snowballed to present day, where Dream Theater is synonymous with the genre now known as "Progressive Metal." So if you love or even like hard rock, heavy metal or progressive rock, then you should find immediate gratification from this band & this album in particular! Today the band still retains 3 of the founding members, but replaced the vocalist after their first album & ran through a few great keyboard players over the years.
Back to the DVD: This concert is taken from a NYC show recorded in August 2000 & features possibly one of the greatest concept albums in the history of contemporary rock music: "Metropolis 2: Scenes from a Memory." The live footage is absolutely fantastic. To the current fans I say: "Throw away those crappy bootleg videos from Japan...this DVD was made to satisfy!" To the future fans I'll advise you; order this gem, it's a keeper & it has also raised the bar for the relatively new art of music DVD's. Movie studios have a huge budget for production & promotion of their DVD's while most music companies are still far from embracing the DVD format as a primary medium. In other words: music DVD production just doesn't have enough money in the budget to make it look as pretty.
On to the music itself...If you have teenage or twenty-something kids who are into today's hard/alternative rock (ask them about Creed, Tool, Papa Roach, System of a Down...ad infinitum,) or if they are aspiring musicians, then this is a DVD you can sit down & enjoy together with them many times over. You will notice that Dream Theater's complex virtuosity allows for new experiences with each listen (& in the DVD's case, every view.) Suffice to say that if your musical roots lie in the realm of metal or prog rock you will be pleasantly surprised, if not immeadiately struck by their skills.
The main program & bulk of the DVD is the 85 minute concert version of "Scenes From a Memory," which was originally 78 minutes on the studio CD release. The extra time appears to allow for some subtle solos & a slower pace for the spoken word dialog. This concept album has boundless musical avenues, crossing every border, but still presented in a "metal" form. More often than not, to the new listener the music comes first & the lyrics second. Unfortunately, Dream Theater are so far beyond the likes of their contemporaries & those who have been inspired by the band, that it is so very hard to describe their music in a nutshell. OK, ok, I'll give it a try: just imagine this album musically as Pink Floyd & Genesis get together with Rush & Metallica to record the best album of the decade. Elements of Middle Eastern, jazz, fusion, Frank Zappa, even ragtime & many other styles are featured in this amazing 85 minute concert/musical story. I think this album & DVD will appeal to almost any musician, no matter what instrument or style they might play; from metal guitar to classical piano...
The story & lyrics revolve around a man who, with the help of a psychotherapist & hypnotism, recalls a former life. I'm not writing a thesis here, so it might be that in a past life the protagonist was either a serial killer, or even the victim of a killer. I suppose it would be better left open to individual interpretation & perhaps mentioning the main theme might put some readers off, but the album also has many beautiful ballads & symphonic instrumentals. The depth of the story behind the album requires many plays to begin to catch on to, unless you sit & study the CD lyric book while you give it your first listen. The DVD doesn't come with a lyrics booklet, just a nicely printed, simple cardboard stock box & disc. The production on the live show is great, as you can clearly see the background video & highlighted lyrics that you may have missed on the screens at the live gigs (that is if you managed to catch one or both of the SF stops on the "Scenes" US tour.)
The first bonus is over an hour of encore songs that highlight some of the best & certainly most requested songs from albums past...allthough the majority of these are culled from their stellar 1994 album "Awake." Just for the fans, the finale would be a live version of the 24-minute epic "A Change of Seasons," which was originally released as a super-sized CD EP (70 minutes including the "EP's" bonus live material from a very special London show) in 1995. I love all the encore, but I really wonder why they (actually he: Mike Portnoy, the DVD producer & dummer/writer/founding member) didn't include "Metropolis, Part I" in the encore...but beggars can't be choosers!
There is what seems to be another hour of video about the making the film, including extended footage from before the show with interviews of fans from around the world. There's also a great slide-show photo gallery from the "Scenes" World Tour (You should see the size of the venues DT can sell out outside the USA!)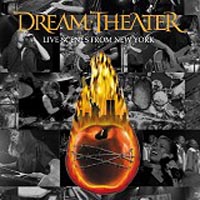 An interesting & bizarre side-note to the "Scenes From A Memory" project was the initial release of the 3CD live concert from the world tour. The live 3CD set was originally released on September 11th & featured the cover artwork seen above. This tragic coincidence was quickly fixed & the new pressing of the set features the classic "Majesty" logo instead of the big apple with the NYC skyline in flames. Please take note that this artwork was approved far in advance of the 9/11 attack on NYC & obviously a great number of these were already on record store shelves on the morning of that fateful day. The same artwork is included inside the DVD box as well as upon one of the navigation screens on the disc. This strange story has already been covered by MTV & other major entertainment news media. Dispite the odd circumstances this particular release should not be ignored!
So as you can see, I can't sing the praises of this DVD from Dream Theater enough. If you haven't heard of them before this article then you'll just have to trust me & check this band out for yourself. For the DT fans (I know you are out there...) this is a "must have" for your collection! The official Dream Theater website has a huge archive of information, so click on over to www.dreamtheater.net to learn more about this band. For more audio samples than you can download, try clicking here. To download a .zipped video sample of this DVD click here (file size 3.56mb.)
-Eric Brooks (www.eb-web.com)
Dream Theater - "Six Degrees of Inner Turbulence Tour" at The Warfield in SF on March 9, 2002.
---
Nov-2001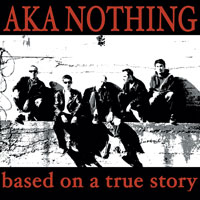 AKA NOTHING - Based on a True Story (Review by guest-writer Mike Salemi)
"Based on a True Story" is the latest collection of songs on CD from the five-piece East Bay punk outfit AKA NOTHING. Founded in 1997 this band has been through many changes, but the core members hung in there long enough to get this latest CD released.
This is true old-school Punk as opposed to what passes for punk rock today, which is mostly pretty-boy pop with tattoos and hair dye (as in the likes of Green Day, Rancid, Blink-182.) This disc is raw and unproduced and even at some points almost flat. It could have been recorded in somebody's garage back in 1977, which also gives it a certain character, even a kind of charm.
In the old Ramones tradition, this CD contains a lot of material (twenty songs!) Most of which are very short and to the point. No solos, no intros, just bang, bang, bang; and to these "old-school" ears the style is refreshing to hear again!
The only thing that I really don't like about "Based on a True Story" is that most of the songs sound too much alike, and some of the vocals are either at times weak, or at some times off key. But with twenty tracks on the album, I can't go into detail, so suffice to say the best track on this CD is by far "Beatbox." It's a catchy, powerful, and very interesting tune.
(Eric's notes: Since I'm not an expert on punk, I thought it would be a good idea to bring in Mike to comment on this local band's release. Mike has played with local experimental punk-rock band "The Power Tools" for nearly 20 years now. You can visit AKA Nothing's & The Power Tools' websites through the links below...But being "Punk Rock" you will have to expect lyrics & some content of the "mature" persuasion! So thank Tipper Gore for this warning before clicking on the links below. I know I've been a bit behind with the music reviews section. So next we are off to visit a live concert in NYC on DVD & after that a trip to hear a favorite son of Scotland. Also please feel free to post comments or feedback on the MyCastroValley.com message board.)
AKA Nothing official website: akanothing.com
AKA Nothing mp3.com website: AKA Nothing mp3.com
The Power Tools mp3.com website: The Power Tools mp3.com
---
Oct-2001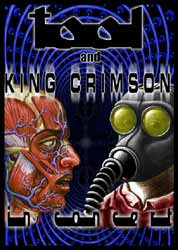 Thoughts on the Tool & King Crimson Tour: Diverse or Desperate?
Either this tour was created from a stroke of genius or contrived from pure desperation. The Tool/King Crimson shows on August 10th & 11th at the Berkeley Community Theater sold out in about 3 minutes for each date. So, who do you think sold out these shows and all of the tour's US dates? Some of us at work, even tried to get tickets through Onstar -- with no luck -- just so we could see the show (thanks for trying Sandra!).
Toolband.com - The Official Tool Website
I'm sure the kids and a few adults are familiar with Tool. Just in case you aren't ... during its first week out, the latest album, "Lateralus," went to #1 on the Billboard charts. Most readers of this review are probably already familiar with the first single, "Schism," which can be heard on local radio stations and seen on video on MTV. I think Tool is pretty good if you are open to a varied range of alternative, heavy rock, metal, or prog/symphonic rock (...and that covers quite a few bases! So kids, maybe Mom and Dad would actually like 'em!)
I'm afraid I don't have the latest Tool CD to add much commentary on their new material, but there is a selection of short samples available on the official website (see link above.) Most of the clips sound interesting, and I certainly like "Schism," so perhaps some of the Tool-heads out there can enlighten us via the message board. For better or worse, these are the guys that are selling out the shows this time around and all the US shows seem to have sold in 15 minutes or less. I still would like to view this pairing as "a brilliant stroke," born of King Crimson fandom.
King Crimson Websites: DGM & Elephant Talk Newsgroup
King Crimson's first album, "In The Court of the Crimson King," was released in 1969 during the beginning of the British psychedelic/progressive movement and finally reached #28 as its highest U.S. chart position. Featuring Greg Lake on vocals and bass guitar (his only album with KC, after which he began as the "L" in ELP. Now, I hear he has just joined Ringo's "All Starr Band"). The original band also included: Robert Fripp on guitar; Ian McDonald on reeds, woodwind, vibes, keyboards, mellotron, and vocals; Michael Giles on drums, percussion, and vocals by Peter Sinfield - "Words and Illumination." The Crimson catalog is sizable, but not too outrageous, due to periodic breaks for several years at a time between writing and studio binges. Currently the KC line-up consists of: Adrian Belew (also a past member of/recorded with: Frank Zappa, David Bowie, Talking Heads, Tom Tom Club, Laurie Anderson, Paul Simon, etc.); Robert Fripp (Brian Eno, Peter Gabriel, David Bowie & more); Trey Gunn (master of the 8-string "Warr Guitar"); and Pat Mastelotto (XTC, Mr. Mister, Michael Penn & more.)
You can hear a few longer samples from several KC albums and live CD's at the DGM website. Both of these bands seem to be very protective of their on-line material, or so it seems, with the limited quality and amount of "official" sound clips available.
The hard-core fans in the King Crimson "Elephant Talk" newsgroup (again, see link above) are hashing out whether or not Tool was influenced by King Crimson. All I know is that I have enjoyed the many incarnations of Crimson for almost 20 years now, but I also like the Tool singles I've been hearing on the radio lately... so it seems this tour is for young and old alike. It's the perfect concert for the Crimson fans with teenage children, that is if you were able to get tickets!
King Crimson and Tool are being billed as "co-headliners" on this tour, but if KC are first on the schedule for the majority of the tour, I wouldn't be very surprised. At the very least, Tool will be requiring their young fans to give a good look and listen to some of the greatest musicians in the world of rock music.
-Eric Brooks (www.eb-web.com)
---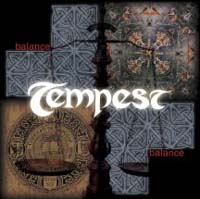 Tempest - Balance
Either despite, or because of the fresh faces in the current Tempest line-up, this latest studio album (their ninth) is probably the band's best collection of work to date. For those familiar with celtic rock music, this CD/album is a great introduction to the band. "Celtic music" is a fairly broad genre including traditional music from Ireland, Scotland, Wales, Norway & other, smaller Celt strongholds founded & subsiquently lost in ancient history. Tempest's founder & frontman Lief Sorbye combinds traditional Irish & Norwegian styles with a straight-ahead rock 'n roll format. In fact this CD offers up some tracks that forge suprisingly deep into rock/prog/fusion territory.
(Due to my enthusiasm over this album I've written a brief review of each song...You can listen along to RealAudio or MP3 samples of these songs while you read the review by clicking here courtesy of Tempest's label Magna Carta Records.)
"Captain Ward" - A traditional song performed in the "classic" Tempest style...a great introduction to the CD & a good example for new listeners of the band's overall style. Tempest are unlike, but like-able in comparison to other "popular" bands that fall within their genre. Like the bands Black 47 & Boiled in Lead, Tempest features a rock 'n roll form for traditional celtic folk music. You can also compare them to The Cheiftains or Fairport Convention in that a line between folk & rock is carefully walked. Most recently the progressive facet of the band has been more pronounced (ala Jethro Tull & other proggers) thanks to producer Robert Berry & also the most recent new members of the band.
"Dancing Girl" - An old live standard song finally brought to the studio. I'd have to unlock the vault & look through my tapes & the earliest CD's to confirm that this is the first time Lief's classic tune has been laid down as a studio release. Just enough production depth added with Robert Berry's help to make this a fascinating item for veteran fans.
"Dance of the Sand Witches" - This reviewer's dream instrumental from Temepst: celtic progressive metal!?! The track is a whirling dervish of a tune & is certain to tangle the footwork of even the finest traditional jig dancers.
"Iron Lady" - Another hard-edged track, but with heavy guitars & percussion line in a Rothery & Mosley-esque style from the UK band Marillion, but this is probably just a coincidence (or my own ears playing tricks.)
"Two Sisters" - Here is a happy, pleasant little traditional tune to break up the screaming pace. But not for long; just listen for the break-out fiddle work.
"Wicked Spring" - A new "traditional-style" song penned by Lief & new guitarist Reynolds, but still pure Tempest. Again production touches presumably from Robert Berry adds alot of depth to this track.
"Old Man Flint" - A Sorbye original in 3 parts...All in all a rockin' reel: (Old Man Flint/The Unfortunate Postman/The Trip to Yuba City.)
"Villeman" - A traditional song with a performance in the classic Tempest sytle, musically I hear some of the band's Tull influences, but take note that the lyric are in Norwegian, as Lief makes sure to include one Norge lyric on each album.
"Battle Mountain Breakdown" - This track features a guitar & mandolin duel ala Steve Vai meets Bela Fleck (but instead of Fleck's banjo, insert mandolin here...At least that was my initial feeling: take it or leave it.) "Battle Mountain" is another dream instrumental bordering on the progressive metal/fusion end of the spectrum.
"The Journyman" - Another familar sounding track for the old-time fans, but suprise; it's a new one for this album. Suffice to say that this is another pleaseant, danceable romp that both fans & newbies will love.
"Between Us" - A late ballad break in an otherwise over-the-top, high-energy CD...finally a relaxing catch of breath. A truely aural work of art. Deep production-work again thanks to Robert. You can find this & other CD's from Tempest in many local shops & even some chain record stores. They also play live gigs constantly around the SF Bay Area & California. You can visit their website at tempestmusic.com for tour dates & more information.
"Royal Oak" - Closing the album is a collection of original & very dancable reels linked together as one brilliant track: (The Cow that ate the Piper (Mullen)/ Ulcers Enough For Two (Mullen)/ Royal Oak (Land)/ Toddy's Wedding (Sorbye))
Lief & his band Tempest are based in Oakland, so local residents have no excuse to avoid going to one of their many gigs around the East Bay & enjoying the "reel" experience live. "Balance" is a bases-loaded effort, the CD literally has it all: from very traditional celtic jigs & reels, to serious celtic-rock & even some progressive/power rock experiments...so who could ask for more?!?
-Eric Brooks (www.eb-web.com)
---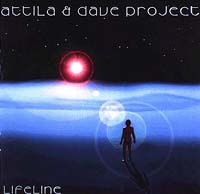 Attila & Dave Project - Lifeline

For those unfamiliar with this local progressive rock trio, the two founders of the group grew up here in Castro Valley. Dave now lives just over the hill in San Leandro & Attila has moved away to Walnut Creek. One of the distinctive factors that sets ADP appart from the vast majority of today's "progressive rock" bands is that (booking agents take note) these guys can re-create their CD's sound live & enjoy doing so as often as humanly possible. They play live shows once or twice a month around the Bay Area, also touring up & down the entire West Coast when they have the time. "Lifeline" is the band's second offering, recorded at the world-renowned Fantasy Studios in Berkeley, CA, produced by Grammy Award-winner Steve Fontano (for his work on Santana's "Supernatural" album) & released without indie or major label backing.

And now, for those unfamiliar with "progressive rock" I'm including this definition from another source: "Progressive rock is a style of music that combines classical music's sense of space and monumental scope with rock's raw power and energy. There is frequent inclusion of other musical styles such as classical, R&B, jazz, folk, avant-garde and world music. Arrangements are typically complex, dynamic and multi-dimensional usually featuring intricate keyboard and guitar playing. Many of the early progressive rock bands incorporated a Mellotron or string synth to simulate an orchestra backing. Dynamics are also an important part of progressive rock. A mixture of loud passages, soft passages and musical crescendos add to the emotion of arrangements, as do extended instrumental solos, which may involve some improvisation. It is also not unusual for bands to compose lengthy, yet structured, multi-movement compositions that center on a core musical theme. Lyrical content may draw from science fiction, mythology, fantasy and utopian literature." (-Definition from an unknown author working for AT&T/Excite@Home)

The "Lifeline" CD opens with a short but musically broad & expansive track, "Seven Wonders in the Sunrise" which captures the ADP style in a nutshell. Followed by the longer (albeit mellower), more psychedelic second song "Across 100 Summers" which helps set the tone for this album. "Moonlight" comes next, with pipe organs opening this epic song of woe. This track exposes the darker side of ADP, and is the first of 3 "epic" songs on this CD. Guitar & keyboard stlyes change adeptly from blues, jazz & rock under Dave & Attila's respective fingers (this track reminds me of early King Crimson with a smattering of Kieth Emerson's The Nice & also Pink Floyd.)

"Mother's Milk" is a personal favorite (my opinion has been corrupted in ADP's favor, having heard this standard of their gigs some 20+ times live) so you'll just have to give it a spin...this song is an example of their heavier side packaged in a radio-friendly format. Then we have the second "epic" on this album, "Hills & Valleys," which could have easily been the title track for this CD. The song opens with slide guitar leading into vocal gymnastics between Attila & Dave. This one track is a great example of what to expect from ADP: melody, arrangement & vocals combined to create a mini-rock opera in a mear 7 1/2 minutes time. Again this is a track that you can expect to hear at any live show. One problem with today's prog-rock bands is that most can't re-create the same sound live, but with hundreds of shows behind them, ADP have no problem delivering the goods playing live shows.

"Circe" begins as a mellow change of pace, built around a Beatlesque melody that will stick with you long after the initial listen & features the most memorable of Attila's vocals from the entire album. "Some Saturday Blues" is yet another live standard & clocking in at 8:23 is the longest & also the last of the epic tunes on "Lifeline." Opening as a loose, jazzy piece, this track quickly picks up tempo in a graceful, yet staggered, pace. The build-up shifts into a progressive jazz/metal explosion of keys, guitar, bass & drum (all this from just 3 band members, mind you.) The final song, "Grace," is a great wrap-up to this album. Attila's vocals & piano open the track with gradual accompaniment from Dave & percussionist Rusty, building into a brilliant prog arrangement. A great finale to the second studio effort from this local band. You can pick this disc up cheap directly from the band through mail-order via their main web site at: attilaanddaveproject.com

-Eric Brooks (www.eb-web.com)

Back to the Coffee House Page or www.MyCastroValley.com.
All rights to material on this page are reserved and protected by copyright laws of the United States of America and international law. Any duplication of this material without consent of Eric Brooks is prohibited.