Open 24 Hrs., 7 days a week!
Advertising and privacy policy
Call: 510-276-9902 or Email Ken @ko-websites.com )no space after "Ken"
When placing an ad at MyCastroValley, there's absolutely no hassles for you. We do everything, including artwork.
MyCastroValley.com Web Site Advertising Rates:

Paid Site Sponsorship Rates: In general, we offer one (1) year advertising contracts, paid in advance. All fees include art work and set up. If you have a company website, we will link your ad to it.
Business card size ad on the Home/front page- $500/Yr.


Business card size ad or coupon on any sub page-$300/Yr.
$35./Mo. must be paid through auto pay at PayPal. Yearly payment via check or Pay-Pal.


Minnie banner ad and link. Sub pages only. Cost is $100/Yr.


"Featured Home For Sale" or "Property For Rent" on the Real Estate page- Click Here!
Please see ad samples below.
Sample Ads
Minnie banner ad:

Example of Business card (BC) size ad: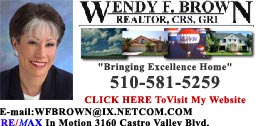 Call: 510-276-9902 or Email Ken @ko-websites.com ) no space after "Ken"
Important note to Realtors
"...About 2 months ago my family and I had decided to move from San Francisco to Castro Valley. There were several factors but a major one was the fantastic information on your site. I have gone through your site many, many times and obtained a lot of very useful information...."
Nice work, and I enjoy the flash intro in the beginning.
Regards,
Larry R.
Note also our high search engine placements when searching "Castro Valley." Please considered supporting this great community online resource and reserving your ad space today.
"Business card size ad"- Top of page:
Only $300.00 for an entire year! You get the space, you tell us what you want there and we do the rest. No setup or artwork fees! Yes, we do link the ad to your website.
"Featured Homes For Sale"
We link the ad/listing to your website! Private parties welcome. $300/Yr to reserve space. You send photo and text-(up to 30 words), we post it, you sell it! It's that simple. Only 6 homes to be featured here! Yearly contracts are allowed to change listings up to 12 time per year.
"Land For Sale"
We link ad to your website! Private parties welcome. $300 until sold.
You send photo and text-(up to 40 words), we post it, you sell it! It's that simple.
"Property For Rent"
We link the ad to your website! Private parties welcome. $300 to rent space for one year. You send photo and text-(up to 40 words), we post it, you rent it! It's that simple.
Advertising Policy
CV business listing (name, address and phone number) are FREE! If your not already listed, email me the information and we'll post it for free as a community service. NOTE: No links to company web sites will be added without paid sponsorship/advertising. This offer only valid to Castro Valley Businesses.No rude or offensive material allowed. No exceptions. MyCastroValley.com has the right to refuse any material it finds unsuitable for this site and its viewers. Because of band width and storage limitation, some material may be refused if capacity issues become a problem in the future. Having said this, every effort will be made to accommodate all reasonable requests. For classified policy, please read info on the "classified" page.

MyCastroValley web site privacy policy
No private (names, addresses, email addresses, etc.) information will be released to anyone without their knowledge and authorization.
Some statistical data may be collected from time to time. For example: On such a such date, X amount of people visited this site, saw this banner, etc. This information may be shared with potential and current advertising clients. However, no personal information will be associated with this material at any time.
What is MyCastroValley.com?
MyCastroValley.com is a self supporting online community resource.
We are financed through local company sponsorship. In exchange for sponsorship, we offer acknowledgement through advertisement.
MyCastroValley.com is a community website, that is privately run. Instead of sapping up public funds like some city and county sites do, MyCastroValley is self supporting through advertising. The more financial support we received, the better and bigger the site becomes.
We also share our revenue with our community. In 2004, MyCastroValley donated over $5,000.00 to CV sponsored events and organizations.
MyCastroValley.com strives to participate in positive community events. MyCastroValley played an integral roll in the Castro Valley For Humanity campaign that raised over $27,000 dollars for the FDNY and Red Cross. We are currently assisting in the Campaign for a new sports field at CVHS and other community fundraisers.

---
Legal Information

MyCastroValley, My Castro Valley and MyCV are property of the KO-Websites.com.
The MyCastroValley.com web site was first conceptualized, designed, built and published on April 1, 1998. www.MyCastroValley.com is a registered domain name and is the property of KO-Websites.com.

All rights reserved. Any duplication of this web site, it's content, art, text, audio or concept is forbidden by law. Respect the private property and rights of others. If you want to copy anything, just ask first. In most cases, the request will be granted.
Thank you,

Ken O'Donnell
510.276.9902
3209 Castro Valley Blvd. Suite 4.
Castro Valley, Ca. 94546

Return to MyCastroValley home page
---
Call: 510-276-9902 or Email Ken @ko-websites.com )no space after "Ken"
©/TM 1998-2012- MyCastroValley.com